Book Giveaway: Truth Speaks to Power
---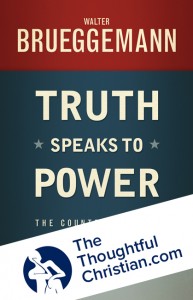 The good folks at The Thoughtful Christian have agreed to give away ten copies of Brueggemann's latest book, Truth Speaks to Power.
Leave a comment on this blog post – not the Facebook page – to be entered. (When you submit a comment, you are required to submit your email address. That address won't be publicly viewable, but it's how we'll contact you if you win.) Winners will be selected randomly from all comments received.
Entries must be received by 11:59 pm eastern time Thursday night.