Truth Speaks to Power Week 1: Introduction
Posted on 12th August 2013
by Josh
---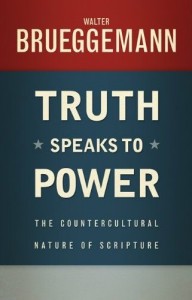 Our reading group is starting this week! Hopefully you've read some of Truth Speaks to Power and are ready to participate.
Feel free to discuss whatever you want from the introduction (pp. 1-9). Post in the comments section below and let's get the dialogue started.
Here are some possible quotes and topics to which you can respond:
What do you make of Brueggemann's distinction between "truth from above" and "truth from below"?
How does Brueggemann describe the idea of power?
How can people "from above" read "from below"?
In what ways do ironic readings contribute to this practice?
"…we are, as readers and interpreters, always contestants, whether we recognize ourselves as such or not" (8).
Tags: truthspeaks