Truth Speaks to Power Week 2: Moses
Posted on 19th August 2013
by Josh
---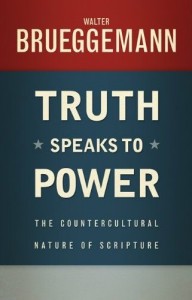 Thanks for all your comments and discussion last week! This is a great conversation we're hosting here.
This week, we're covering chapter 1: "Truth Speaks to Power: Moses".
Feel free to comment about and discuss anything you like from this chapter. Here are some possible discussion starters:
Discuss Brueggemann's contrast of public/private spirituality (p. 11).
"…if you have seen one pharaoh, you have seen them all. They all act the same way in their greedy, uncaring, violent self-sufficiency" (p. 17).
"…the one with the most is the one who is most anxious in irrational ways" (p. 21).
Discuss Brueggemann's mandate that the church tell these stories (p. 27).
What contemporary answers would you give for Brueggemann's four questions on p. 37?
Tags: truthspeaks