Truth Speaks to Power Week 3: Solomon
Posted on 9th September 2013
by Josh
---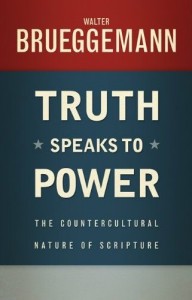 Apologies for the delay on our end. We're back on schedule!
Here are some questions and comments for reflection. As always, feel free to begin your own discussion as well.
What do you make of the link between Solomon and peace/shalom?
Why does Brueggeman insist that we be "suspicious of every new world order" (p. 47)?
What about the ironic elements of the Solomon story?
What about wisdom being tied to political assassinations?
How does Solomon act like a pharaoh?
"The failure of Solomonic power has theological roots" (p. 73).
Tags: truthspeaks