Truth Speaks to Power Week 4: Elisha
Posted on 16th September 2013
by Josh
---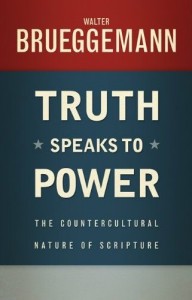 In what ways does Elisha speak truth to power?
Are there any ways in which Elisha seems co-opted?
Comment on the links to Jesus and John the Baptist.
Speaking to Episcopalians, Brueggmann writes, "the Episcopal church…meets regularly in its liturgy to deconstruct and dismiss the managers of power and to show and attest that the real action, guided by God's spirit of truth, is somewhere else, sometimes in the body of Christ and broadly in the sweet of God's own spirit in the affairs of the world." Is this assessment accurate? Is it true of most churches?
What alternative vision(s) does Elisha cast?
Tags: truthspeaks