New Psalms Book Coming August 29
---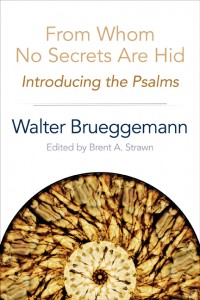 From Whom No Secrets Are Hid: Introducing the Psalms will release from Westminster John Knox Press on August 29. This edited volume is a collection of essays and articles from Walter's writings on the Psalms, mixed with some brand new material. Here's the publisher's description:
The Psalms express the most elemental human emotions, representing situations in which people are most vulnerable, ecstatic, or driven to the extremities of life and faith. Many people may be familiar with a few Psalms, or sing them as part of worship. Here highly respected author Walter Brueggemann offers readers an additional use for the Psalms: as scripted prayers we perform to help us reveal ourselves to God.
Brueggemann explores the rich historical, literary, theological, and spiritual content of the Psalms while focusing on various themes such as praise, lament, violence, and wisdom. He skillfully describes Israel's expression of faith as sung through the Psalms, situates the Psalmic liturgical tradition in its ancient context, and encourages contemporary readers to continue to perform them as part of their own worship experiences. Brueggemann's masterful take on the Psalms as prayers will help readers to unveil their hopes and fears before God and, in turn, feel God's grace unveiled to them.
Over the next few weeks, we'll be publish excerpts, and then as the release date gets closer, we'll announce a giveaway contest. Stay tuned!