"From Whom No Secrets Are Hid" Excerpt 1
---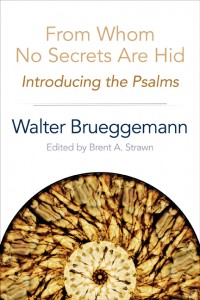 From the upcoming book From Whom No Secrets Are Hid, coming August 29 from Westminster John Knox Press. (See more info here.) Reprinted here with permission from publisher:
Taken in largest sweep, the Psalms move from the summons to Torah in Psalm 1 to the doxological self-abandonment of Psalms 146-150. The God who commands Torah is the God who exercises generative sovereignty over all creation.
The convergence of urgent summons, candid response, and doxological self-abandonment is altogether appropriate within a covenantal relationship.
The Psalter is thus a script for that continuing relationship. And whenever we perform that script, we commit a counter-cultural act, counter to the dominant political, epistemological, and symbolic assumptions of our culture.
This thick poetry goes deeply beneath and boldly beyond our usual rationality so that such performance may yield access to the reality of God's own holiness.