"From Whom No Secrets Are Hid" Excerpt 2
---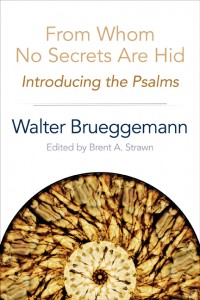 From the upcoming book From Whom No Secrets Are Hid, coming August 29 from Westminster John Knox Press. (See more info here.) Reprinted here with permission from publisher:
…one can easily see in various assemblies that the more intellectual sophistication we have and the more affluence we control, the less engagement there is in such exuberant abandonment and the more is kept back in the safety of self.
Doxology is toned down when we do not readily abandon our intellectual or economic control of the self, when such abandonment strikes us as embarrassing and foolish. The self-sufficient cannot and will not abandon their selves to the God of generosity and trustworthiness.
Thus our self-yielding praise is a measure of our capacity to give our lives over to God, even as our toned-down doxology is a measure of our inability to yield in such grateful ways. Authentic praise "demands my soul, my life, my all" (Isaac Watts).