"Ice Axes for Frozen Seas" – New Book from Baylor Press coming Sept. 15
---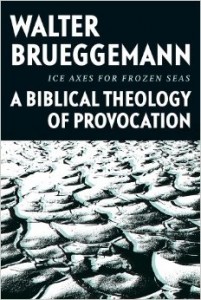 Ice Axes for Frozen Seas: A Biblical Theology of Provocation will release from Baylor University Press on September 15. It is primarily a collection of essays and lectures written and presented from 2008-2012, along with a wonderful introduction and overview of Brueggemann's work by Davis Hankins.  Here's the publisher's description:
Endlessly cunning, elusive, and playful—the Bible consistently unsettles even as it assures. Walter Brueggemann reveals exactly how Scripture exposes the inadequacy of the assumptions and habits that shape our lives. He finds inside Israel's ancient poetry, prophecy, narrative, and legal covenants new words that create new peoples. In so doing this book provokes a theology of transformation—one that compels new social, economic, and political practices.
Brueggemann's reading reveals that we are not fated to live a life of greed, anxiety, and violence, but instead can embrace a shared life of well-being grounded in an investment in the common good. Brueggemann shows the endless ways by which the Bible provokes new life for transformed peoples.
Over the next few days, we'll be publishing excerpts, and then as the release date gets closer, we'll announce a giveaway contest. Stay tuned!