Truth Speaks to Power Reading Group
Posted on 30th July 2013
by Josh
---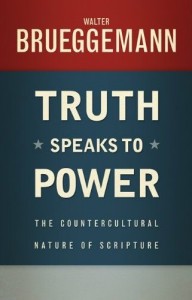 For the next several weeks, we'll read through Walter's new book, Truth Speaks to Power, together. Each Monday, there will be a new post to prompt discussion, which will take place in the comments section of that post. You're also encouraged to post quotes and thoughts to twitter with the hashtag #TruthSpeaks.
Make sure to read ahead so you can begin posting your thoughts on the dates noted below:
August 12: Introduction
August 19: Chapter 1 – Truth Speaks to Power: Moses
August 26: Chapter 2 – Visible Power, Truth Cunningly Subversive: Solomon
September 3 (delayed 1 day for Labor Day): Chapter 3 – Truth Has Its Day: Elisha
September 10: Chapter 4 – Truth Transforms Power: Josiah
September 17: Chapter 5 – Power and Truth among Us
If you don't have your copy yet, click here to see some ways to purchase the book. Check back on Monday, August 12 for our first post and discussion.